Logo Contest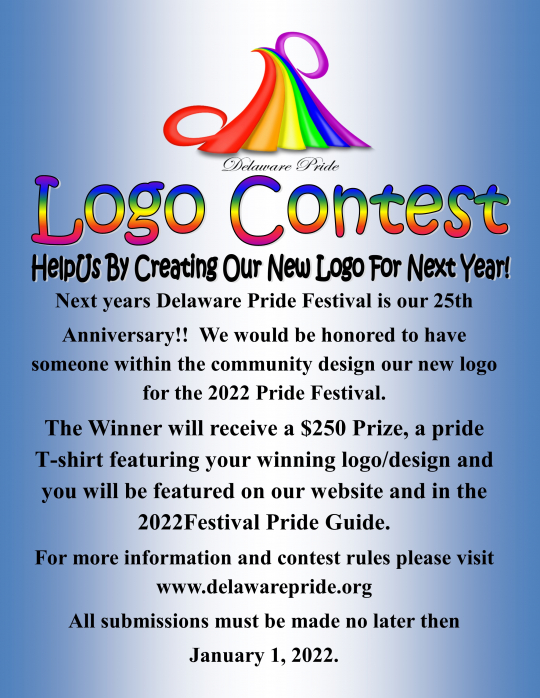 Logo submissions are now being accepted from all members and friends of the Delaware Community. Here is your chance to be a part of Delaware Pride's history.
SUBMISSION AND VOTING GUIDELINES: Submissions will be accepted from Nov 1, 2021 — January 1, 2022 at 11:59pm. The Delaware Pride Inc. Board will select the 10 Ten designs to be voted on by the public. Public voting will take place on our website: www.delawarepride.org Online voting will run until January 31, 2022 at 11:59pm. Winner will be announced on February 1st, 2022. The Artists must sign a release form upon submitting logo this is available on our website.
PRIZE The winner will receive a $250 prize — paid by Delaware Pride Check, a 2022 Pride T-shirt featuring your new logo/design and the winners photo and bio will be listed on our website & in the 2022 Festival Pride Guide, unless the winner chooses to keep identity private.
DESIGN GUIDELINES All Entries Must be Submitted Online The Design must include: Reflect it being our 25th Anniversary Must be suitable for public use & viewing. Must be a Computer Generated Design: Formats accepted: EPS, JPG, TIF, PSD, PDF Compressed files should be submitted by ZIP Resolution of at least 600 dpi is required.
SUBMISSION GUIDELINES Designs must be submitted by Email no later than January 1, 2022. Please ensure that your email includes the following: Full Name Mailing Address Telephone Number Email Address Multiple designs from any one source will be accepted. If submitting multiple designs, please send each design in separate emails. DO NOT sign front of design. Submit design electronically to Info@delawarepride.org with LOGO CONTEST in subject line.
LEGAL INFORMATION When you submit a design/image, you are expressly stating that the submission is your original work. When you submit a design/image, you are expressly stating the design/image has not been licensed to any other entity. By submission of a design, if said design is selected, the design becomes the property of Delaware Pride, Inc.